JetBackup
Explore All the Features JetBackup Has to Offer!
GUI with Dashboard
Our AngularJS GUI was built with user experience in mind.  With a collapsible sidebar and predictive text search fields clients can now enjoy the same aesthetic look and functional feel they have grown accustomed to within their cPanel/WHM interface.  Each section within Jetbackup now allows you to select a vertically expandable row for additional functions. The relationships between destinations, backup jobs, account filters, etc. is much easier to see now with a "jobs assigned" and "filters assigned" column in their respective sections.  Updating settings is now easier than ever with specific tabbed setting pages right from within the settings section.
Our dashboard gives users the ability to access the health of their backup system within seconds.  You can view the most recent alerts, make sure your backup destinations are online, check the status of your existing backup jobs, as well as see what is currently running in your queue.  We also provide you with a list of any accounts currently on your server that are not included in one of your active backup jobs.
Here is the full list of items displayed on the dashboard:
New Alerts
Total Accounts
Total Jobs
Total Backups
Disk Usage
Jobs Running
Recent Alerts
Destinations List
Backup Jobs List
Clone Jobs List
Latest Queue
Accounts w/o Scheduled Backup
Take a closer look at our dashboard: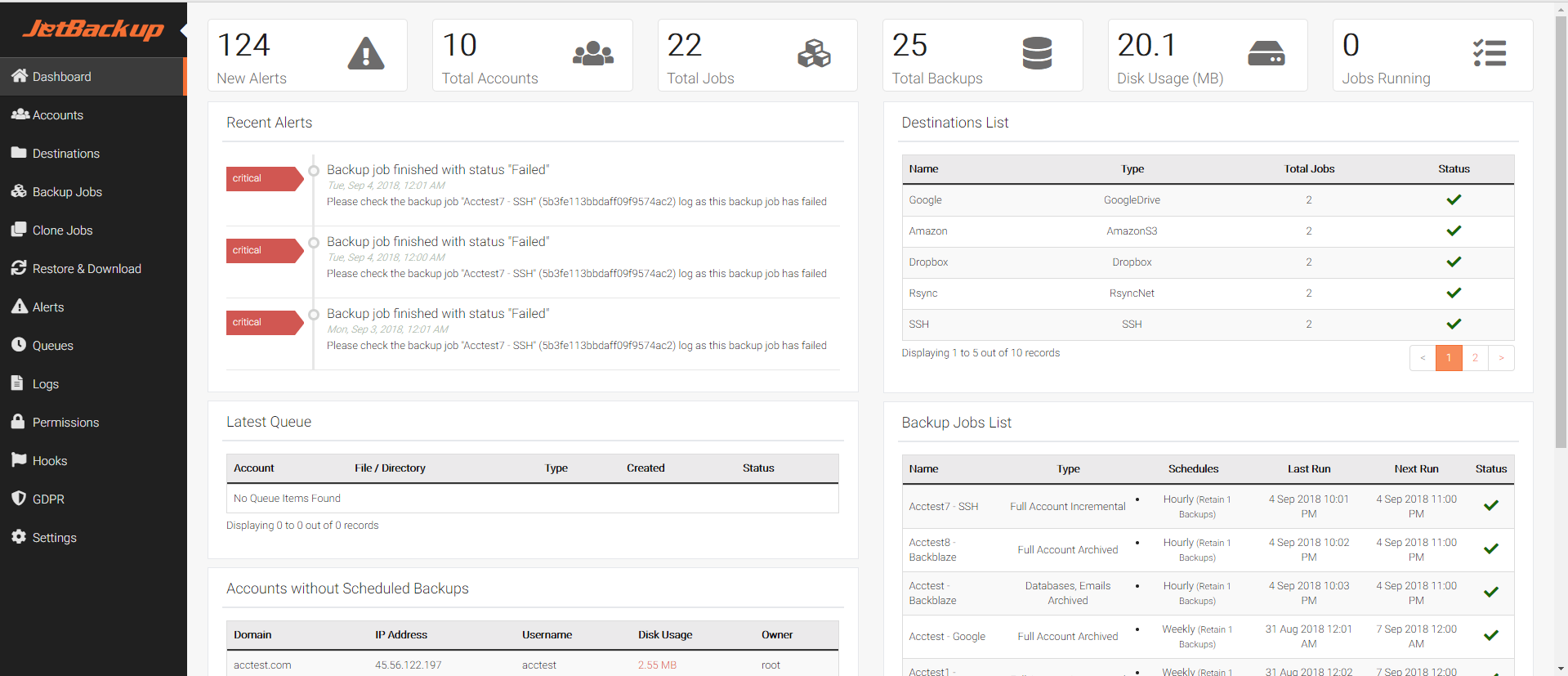 For optimal viewing set quality to 1080p and select full screen ↑
Multi-scheduling
Multi-scheduling allows you to create multiple schedules all with different retention limits that can all be applied to the same backup job. You no longer need to create a separate backup job for each schedule. Multi-scheduling also auto-detects when multiple schedules for the same job are scheduled for the same time. When this occurs it only stores one backup versus multiple backups saving you storage space.
JetBackup also has advanced scheduling features allowing you to schedule a backup to run immediately after another specific backup job has finished. This is crucial in minimizing both your nightly backup window as well as your server resources that are dedicated to your backup jobs running. Another advanced feature is "schedule delay" which allows you to set a time to wait prior to starting the next backup job. This comes in handy when you have post job custom hooks that could affect your next scheduled backup job.
Here is a list of all available schedules to choose from:
Hourly (set every 1 - 12 hours)
Daily (set any / all days of week)
Weekly (set any day of week)
Monthly (set day of month)
After Backup Job Done
After Clone Job Done
After cPanel Backup Done
Here is a simple diagram of how multi-scheduling can both give you an incremental backup
as well as reduce your overall backup space when a job has multiple schedules:
Watch how easy it is to create multiple schedules on the same backup job: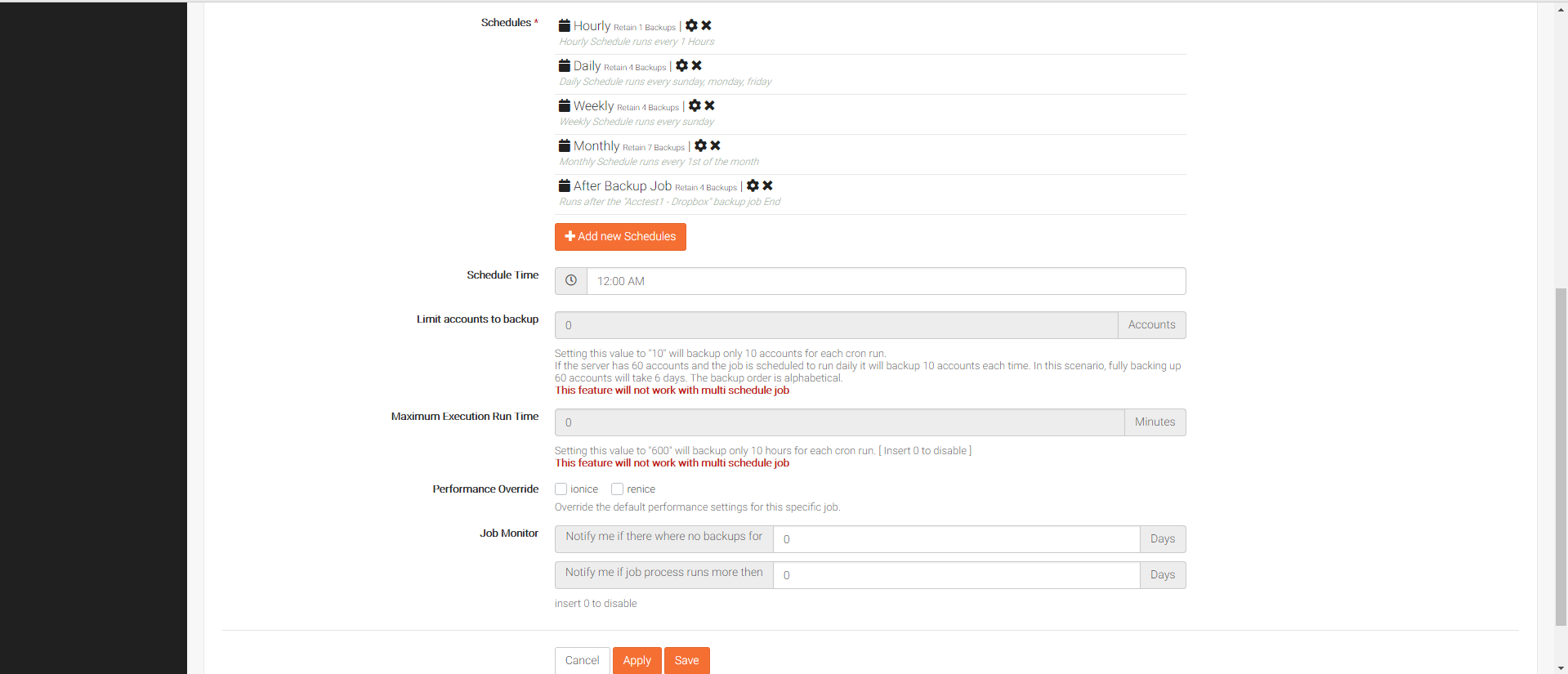 For optimal viewing set quality to 1080p and select full screen ↑
Account Filters
Set up unique filters to specify exactly which accounts you would like included or excluded in your backup jobs.  Separate your backup jobs by account size, resellers, cPanel package types, and much more. Add as many filters to the same backup job as you would like.  All created account filters are stored and can be used for future backup jobs. Adjust filters up or down and use OR / AND statements for a truly smart filter!
Here is a list of all available filters to choose from:
Accounts Filter
Resellers Filter
Suspension Filter
Disk Space Usage Filter
Inode Usage Filter
cPanel Package Filter
Characters Range Filter
Regular Expressions Filter
Here is an example of a filter set applied to a backup job.
Of all cPanel accounts, this backup job will only backup 2 accounts - VIP Packages that are over 5 GB:

See account filters being created and applied to a backup job in this video: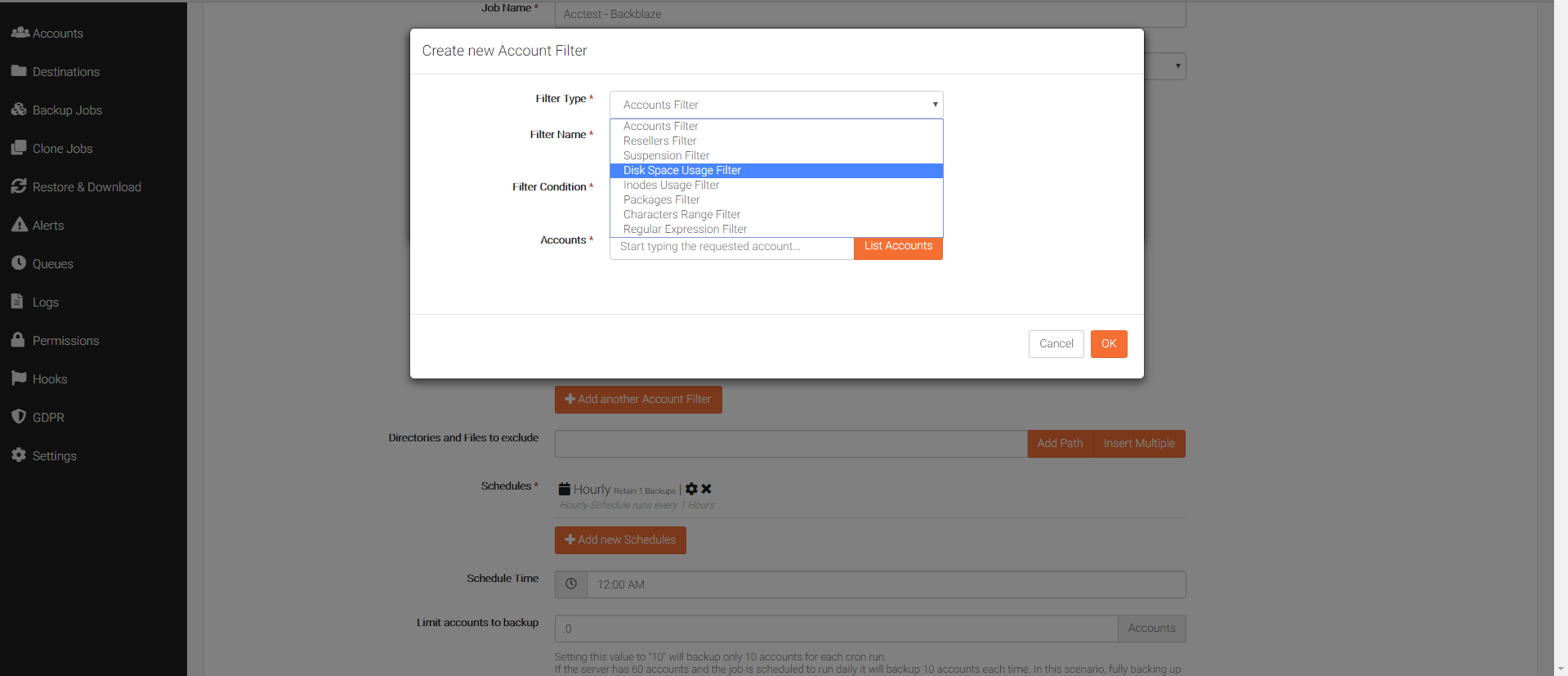 For optimal viewing set quality to 1080p and select full screen ↑
GDPR Mode
GDPR Mode is a vital feature that helps bring hosting providers one step closer to being in compliance with this regulation.  A big part of GDPR is giving awareness to your clients as to what personal data you store, how you store it, as well as where it is being stored within your company.   This feature now gives you the ability to backup and restore encrypted backups for ultimate security!
With GDPR Mode enabled you can force end users to agree to your user policy, privacy policy, as well as backup destination information right from inside their cPanel interface.  End users also now have "The Right to be Forgotten" once they cancel their service with the hosting provider. Everything is automated giving you more time to work on other tasks.
End users can choose to have no backups, regular (unencrypted) backups, encrypted backups with a local encryption key, or encrypted backups with a remote encryption key which requires them to provide the key to their hosting provider in the event an account restore is needed:
Take a closer look at all the GDPR settings inside JetBackup: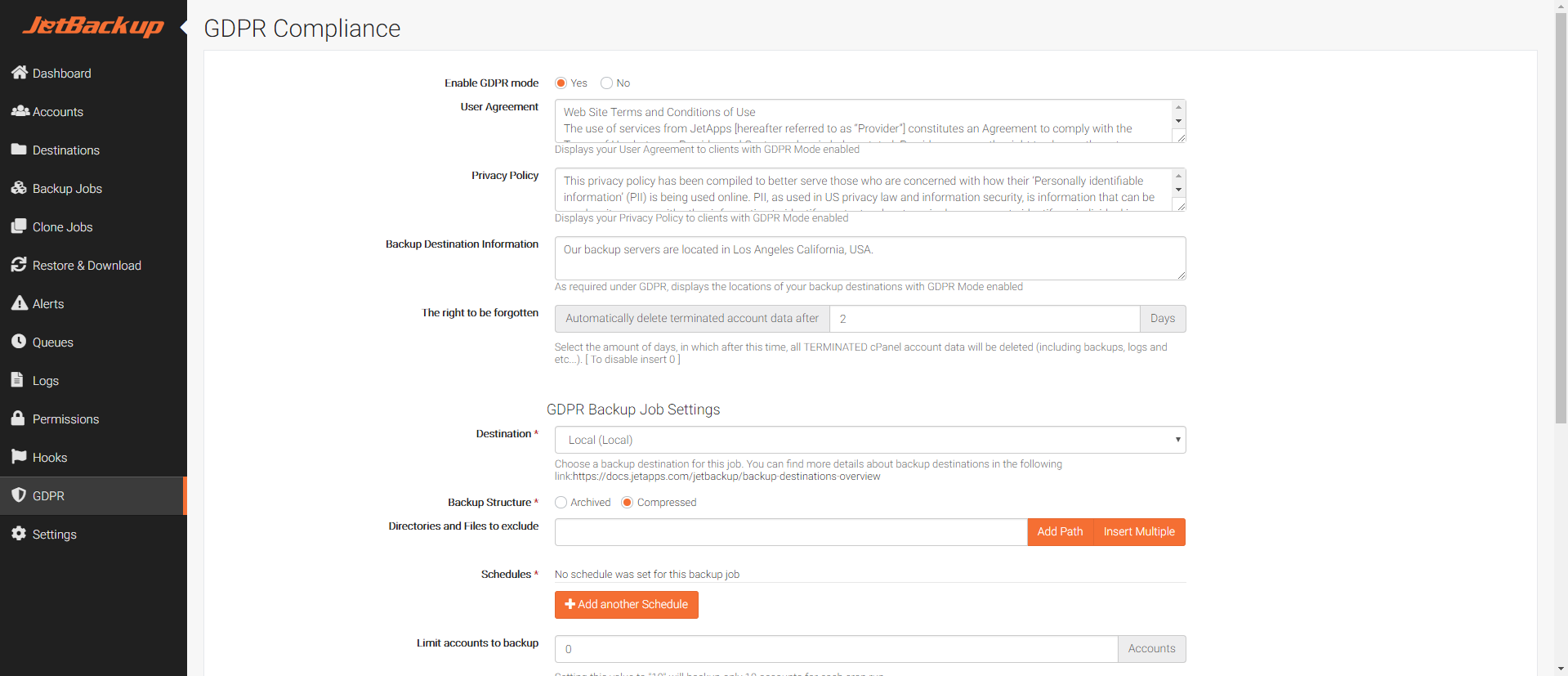 For optimal viewing set quality to 1080p and select full screen ↑
Hybrid Backups
JetBackup removes the limitations on what you can have backed up in a backup job.  No longer are you stuck having to do a full backup or only backup one specific part of the cPanel account.  Whether you want to backup emails and databases or the home directory and cron jobs, you have complete freedom to choose exactly what you want in your backup job.  For a more granular approach, you can also create unique directory backup jobs for certain situations.
You can select any combination of the follow data inside a cPanel account to include in a backup job:
cPanel Configurations
Home Directory Files
Databases
Emails
Email Structure Only
Cron Jobs
DNS Zones
SSL Certificates
Select and deselect what your backup job contains in seconds: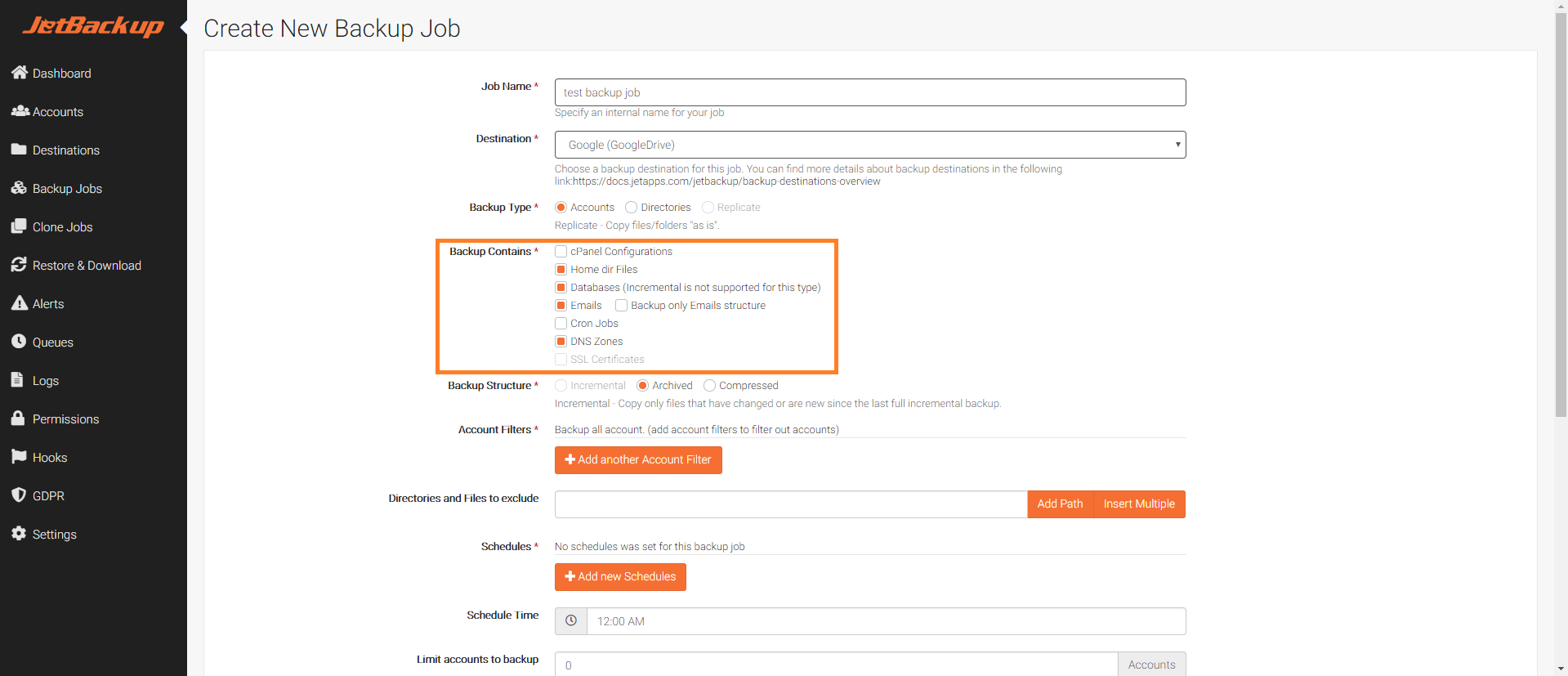 For optimal viewing set quality to 1080p and select full screen ↑
Custom Hooks
Attach your own custom scripts to functions within JetBackup including backup jobs, daily cron jobs and more.  Set hooks to run your scripts pre (before) or post (after) any supported function.  Choose the specific backup jobs you want to run your hooks.  Your backup process just got a whole lot smarter!
Here is the list of all the available functions you can attach a hook to within JetBackup:
Backup
Backup Account
Clone
Clone Account
Restore
Download
Reindex
Snapshot
Daily Cron
See how custom hooks are made within JetBackup: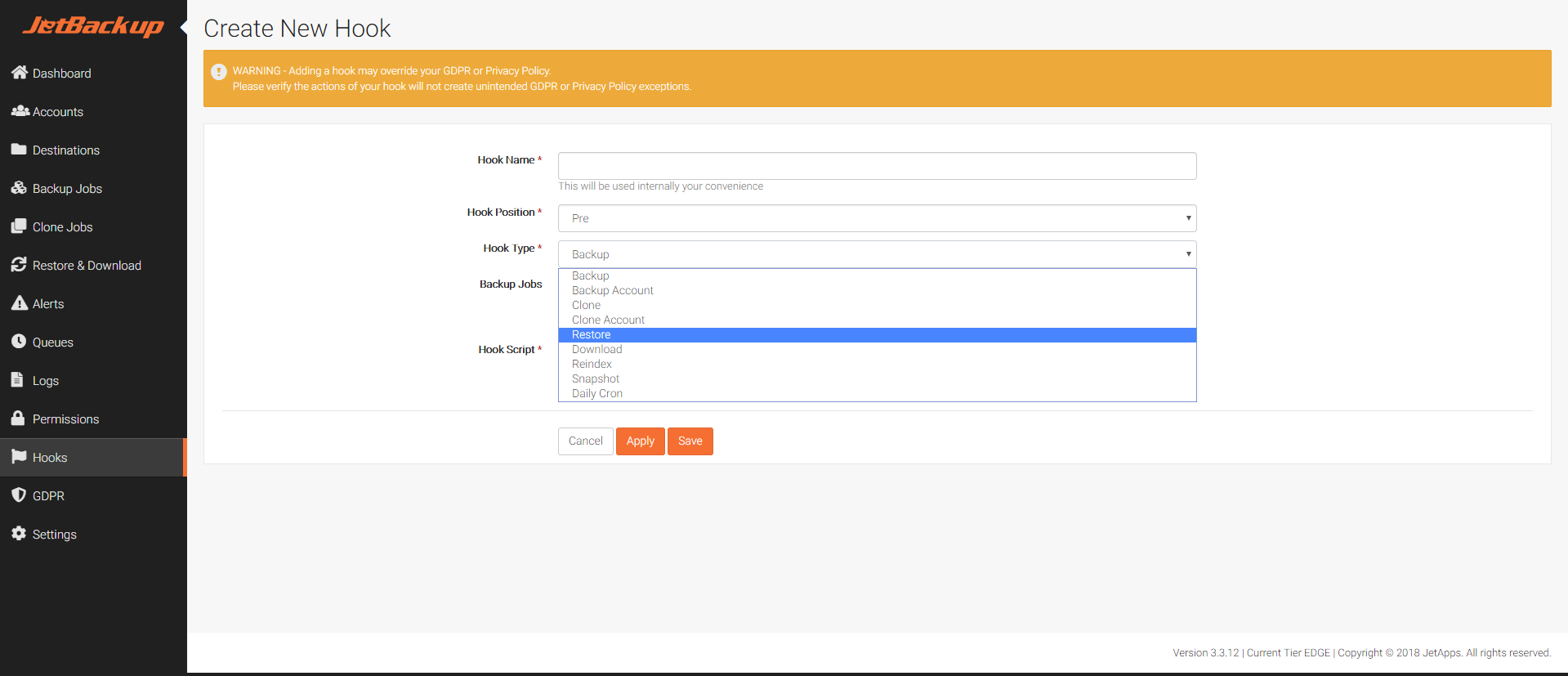 For optimal viewing set quality to 1080p and select full screen ↑
Start your FREE 10-Day Trial of Jetbackup Today!

No Credit Card Required. Install JetBackup in Minutes.