New Backup Engine
With S3-Compatible Support
Now on JetBackup 5.1
Check out the new and exciting features in version 5!
Click here for a side-by-side comparison with version 4.
Self Service = Happy Clients & Less Support
Give your clients the self service backup and restore functionality they deserve!
JetBackup's self service functionality allows end users to restore an account within seconds. The days of an end user having to submit support tickets for an account restore are over! Hosting providers using JetBackup have seen a big difference in their volume of support tickets related to backups. How Big? Some providers have seen up to 70% less support tickets! It is no wonder why hosting providers using JetBackup have also seen increased positive reviews. When clients have speed and ease-of-use it is a win-win for both you and your clients.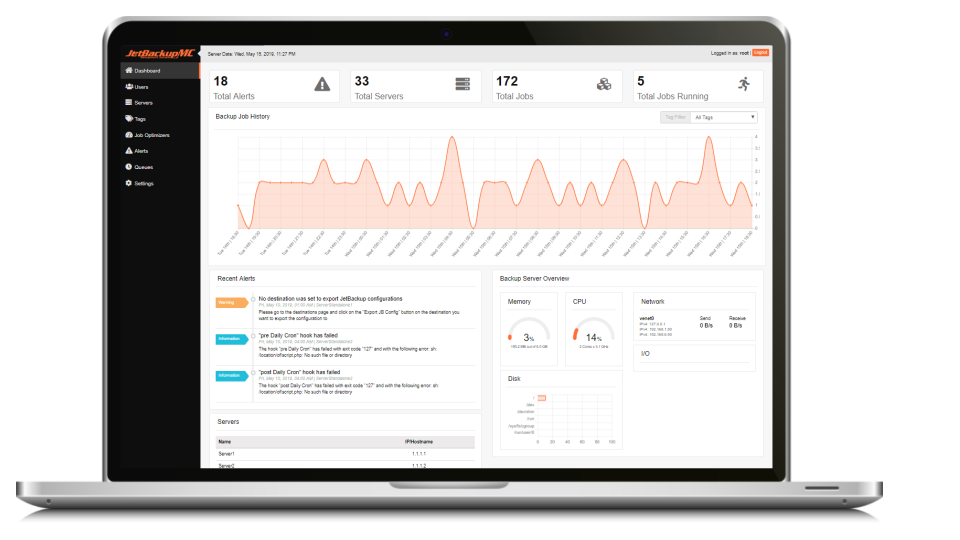 JetBackup Management Console
Easily manage all your servers from one central interface. Our proprietary job optimizer will automate backup scheduling and efficiently backup all your servers in the shortest window possible!
Start your FREE 10-Day Trial of Jetbackup Today!

No Credit Card Required. Install JetBackup in Minutes.